Deer Paris - Attractions and Sightseeing

---

INTRODUCTION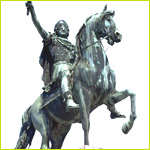 Sightseeing in Paris is like dipping into ancient history. The sights are truly embodiments of remarkable artistic and cultural treasures. You'll see the internationally-renowned collections of paintings, sculpture and decorative arts, grand medieval abbeys, classical architecture, remains of the old Roman Lutetia, gothic masterpieces, collections from Napoleonic times, and many more! All of these truly make Paris a capital of the arts, both past and present.

PARIS MUSEUMS

Musée Rodin: Many Parisians consider this 18th-century former hotel as the best museum in Paris. Named after Auguste Rodin who once lived here and now houses many of his works, the museum brags of breathtaking and exquisite sculptures and gardens that can be visited separately.

Musée National Picasso: This 17th-century mansion is located in the heart of Paris. After the French government accepted Picasso's own collection in lieu of death duties, the collection began in 1973. This collection further grew after his widow's death in 1990. Memorable works include the self-portrait Paolo as Harlequin and Nude in an Armchair.

Musée Orsay: This former railway station by the Seine houses a vast collection of works from the significant 1848 to 1914 period. The superb collection of French Impressionist and post-Impressionist works collection is arranged chronologically and contains highly regarded works by Monet, Manet and Courbet. Also on permanent display is the famous painting by Gustave Doré entitled L'énigme and Henri Chapu's marble statue of Joan of Arc in Domrémy.

Musée du Louvre: The Louvre, considered the world's greatest art museum, houses the Mona Lisa, Winged Victory of Samothrace, Seated Scribe, Jewels of Rameses II and Venus de Milo among others. The former fortress began its career as a public museum in 1793 with 2500 paintings; now some 30,000 are on display.

New and renovated galleries are now open to the public. To avoid queues at the pyramid, buy your ticket in advance and/or enter through the underground shopping mall.

Cite des Sciences at de l'Industrie: This science museum attracts 2.5 million visitors each year with its great exhibits on anatomy, biology.