Deer Paris - Attractions and Sightseeing

---

INTRODUCTION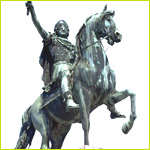 Sightseeing in Paris is like dipping into ancient history. The sights are truly embodiments of remarkable artistic and cultural treasures. You'll see the internationally-renowned collections of paintings, sculpture and decorative arts, grand medieval abbeys, classical architecture, remains of the old Roman Lutetia, gothic masterpieces, collections from Napoleonic times, and many more! All of these truly make Paris a capital of the arts, both past and present.

PARIS GARDENS AND PARKS

Jardin des Champs-Elysées: This garden was inaugurated in September 1994 and is located between the Rond-point des Champs-Elysées and the Place de la Concorde. It brags of and reflects the artistic flair of 19th century architects and horticulturalists.

Jardin du Luxembourg: These 25-hectare gardens are located just south of the Latin Quarter and offer a number of fountains, magnificent statues of poets, tennis courts and playground. You can play even boules (lawn bowling).

Le Bois de Boulogne: Known to Parisians as "Le Bois", this reserve is on the western edge of the city and was landscaped by Baron Haussmann in the 1850s, using London's Hyde Park as his model.

Formerly a royal forest and hunting ground, this area covers a vast area of over 2080 acres / 845 hectares and is home to rowers, joggers, strollers, bicyclists, and picknickers.

Parc Montsouris: This English-style park is the second largest in Paris. It was designed by landscape architect Adolphe Alphand between 1865 and 1878. Situated opposite a university, this is a favorite palce for students and young children. The park offers a restaurant, lake, founstains, and a large meteorolgical observatory.

Jardin des Tuileries: These neo-classical gardens once housed a palace, the Palais des Tuileries, which was burned down by the Communards in 1871 and never rebuilt. The gardens, however, remained. Le Nôtre, Louis XIV's gardener and planner of the Versailles grounds, designed the broad central avenue. Some of the gardens' most distinctive statues are the 18 enormous bronzes by Maillol, installed within the Jardin du Carroussel, a subdivision of the Jardin des Tuileries, between 1964 and 1965, under the direction of then-Culture Minister André Malraux.